Egypt security forces 'disappeared' and tortured US man, rights group says

Egypt Egypt security forces 'disappeared' and tortured US man, rights group says
Khaled Hassan, a 41-year-old limo driver from New York with joint US and Egyptian citizenship, was held for four months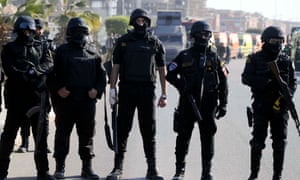 A limousine driver from New York was forcibly disappeared for four months, tortured and sexually assaulted b y Egyptian security forces, according to Human Rights Watch.
Khaled Hassan, 41, who holds joint US and Egyptian citizenship, was arrested and held incommunicado for months by Egyptian security forces after traveling to the port city of Alexandria in January to visit his wife and children.
He told Human Rights Watch that officers from Egypt's national security agency "severely beat him, gave him electric shocks, including on his genitals". He was also raped at least twice, HRW said.
The report comes less than a week after the US first lady, Melania Trump, met Egypt's president in Cairo and â€" according to a statement from Abdel Fatah al-Sisi's office â€" "expressed her keenness to work on strengthening cooperation between the two countries,".
Hundreds 'disappeared' by security forces in Egypt, says Amnesty Read more
Hundreds of Egyptian citizens have been forcibly disappeared since Sisi swept to power following a mil itary coup in 2013, and human rights groups have reported a fresh spike in disappearances conducted by the national security agency since early 2015.
Hassan's account provides a gruesome and detailed picture of torture at the hands of the NSA, during a four-month period in which he had no legal support or contact with his family.
Agents "hung him from his arms for days, dislocating both his shoulders. They repeatedly gave him electric shocks to the head, tongue, the anus, the testicles, and his groin area," according to the report.
Human Rights Watch said that independent forensic experts verified that photographs of Hassan's wounds show lesions consistent with torture from electric shock devices.
The group alleged that agents later operated on Hassan's injuries without anaesthesia, then waited for his visible wounds to heal before he was presented to Egypt's military prosecution in May.
Authorities then added his name to a list of hund reds accused of allegiance to Isis, a charge he denies.
Human Rights Watch added that NSA officers raided the Hassan family home in Alexandria shortly after his arrest. They demanded his wife, Liuba Skateeff, who is Peruvian, leave the country along with their three Egyptian-American children.
Skateeff was later prevented from entering Egypt and deported back to the US along with their four-year-old child.
Egypt's state information service acknowledged Hassan's detention, but denied that he was forcibly disappeared or tortured in a written response to Human Rights Watch.
Asked about the case, an official from Egypt's ministry of foreign affairs said that "currently, the ministry of foreign affairs is diligently examining this issue in order to respond as soon as possible".
There was no immediate comment from the US Department of State.
In July, the US released $195m in military aid to Egypt, which had previously been withheld due t o human rights concerns.
In a leaked memo, the US secretary of state, Mike Pompeo, demanded the release of the aid, despite stating that "the overall human rights climate in Egypt continues to deteriorate".
The memo also described "a continuing problem," of arbitrary arrests, enforced disappearances "and numerous allegations of torture and deaths in detention".
Topics
Africa
Middle East and North Africa
Abdel Fatah al-Sisi
news
Share on Facebook
Share on Twitter
Share via Email
Share on LinkedIn
Share on Pinterest
Share on Google+
Share on WhatsApp
Share on Messenger
Source:
Google News Egypt
|
Netizen 24 Egypt