Egypt attack: Gunmen target bus with Coptic Christians

Middle East Middle East Egypt attack: Gunmen target bus with Coptic Christians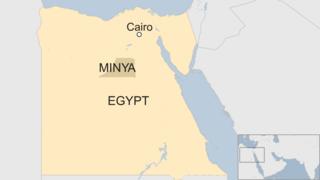 At least seven people have been killed in Egypt by gunmen who opened fire on a bus carrying a group of Coptic Christians, officials say.
A number of people were also injured in the attack in the Minya region, south of the capital Cairo.
The bus was heading towards a local monastery, a senior Coptic cleric says.
The Islamic State grou p says it carried out the attack. Islamist militants have targeted Egypt's Coptic Christian minority repeatedly in recent years.
Egypt's Copts have in the past accused the authorities of making only token gestures to protect them from such attacks.
Egypt is a Muslim-majority country and its Christian minority - mostly members of the Coptic Orthodox Church - make up around 10% of the population.
Egyptian Christians living in fear for the future
Egypt country profile
Top Stories
Life sentence for Bahrain opposition leader
Sheikh Ali Salman was accused of spying for Qatar after Bahrain cut ties with the rival state.
4 November 2018
French territory votes on independence
4 November 2018
Do Americans live in a political bubble?
3 November 2018
Features
These irritating attack ads will decide my vote
'How I became friends with an octopus'
The Indian princess who became a South Korean queen
Can Iran survive sanctions?
The single dad teaching men to be fathers
The A to Z of the mid-terms
BBC Culture: Nine TV sho ws to watch in November
Your pictures on the theme of 'puzzling'
House of Cards in the Indian Ocean
Elsew here on the BBC
Football phrases
15 sayings from around the world
Full article Football phrases Why you can trust BBC News
BBC News Services
On your mobile
On your connected tv
Get news alerts
Contact BBC News
Source:
Google News Egypt
|
Netizen 24 Egypt